Mr Paul McKenna

Hip & Knee Replacement Specialist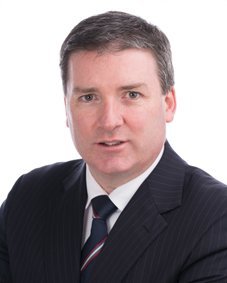 Mr Paul McKenna is consultant Orthopaedic Surgeon operating at The University Hospital Waterford and Kilcreene Regional Orthopaedic Hospital. He has private rooms in both Waterford and Kilkenny.
Originally from Los Angeles, California, Paul completed his Medical training at the University College Cork in 2002, earning his MB, BCh, BAO degrees. He then completed his Higher Specialist Orthopaedic Training in Ireland in 2013 when he was admitted as a Fellow in College of Surgeons in Ireland and accepted on the Specialist Register of Ireland as a specialist orthopaedic surgeon. Along the way, he was awarded a Masters in Science degree in 2010 from the University of Limerick for laboratory-based research on orthopaedic bone grafting.
With a keen interest in Hip and Knee Surgery, Paul undertook an International Arthroplasty Fellowship at the world-renowned Rothman Institute in Philadelphia, USA. Here Paul worked with some of the leading orthopaedic surgeons in the world, gaining expertise in various hip and knee reconstruction techniques, including the minimally invasive direct anterior hip replacement.
Paul was appointed Consultant Orthopaedic Surgeon at the University Hospital Waterford and Kilcreene Regional Orthopaedic Hospitals in 2013. Having taken up the appointment in 2014, Paul is actively involved in the professional development of the unit's non-consultant hospital doctors. He is a Clinical Senior Lecturer at the University College Cork and has several on-going research projects. He has been widely published in multiple peer-reviewed journals and also has published several chapters in orthopaedic textbooks. He regularly speaks nationally and internationally on various orthopaedic topics pertaining to trauma and adult reconstruction.
Paul provides a comprehensive local service in elective, fracture and sports orthopaedics, as well as general orthopaedics, enabling him to maintain a broad overview at all times. Paul has a particular interest in providing rapid recovery protocols for patients undergoing total joint arthroplasty. He has performed hundreds of minimally invasive direct anterior hip replacements that allow for earlier mobility, reduced pain and discomfort, reduced blood loss and complications, a shorter hospital stay and an earlier return to independent walking, driving and work.
He is focused on providing optimal patient care using a conservative approach coupled with evidence based medicine ensuring that he achieves the best possible outcome for his patients. He believes in a collaborative approach and open communication with all involved i.e. patients, their families, GP's and other allied health professionals.
Paul is a member of the Irish Orthopaedic Association (IOA), the Irish Orthopaedic Trauma Association (IOTA), the American Association of Hip and Knee Surgeons (AAHKS), The American Academy of Orthopaedic Surgeons (AAOS), Fellow of the Royal College of Surgeons in Ireland (FRCSI).
Paul specializes in the following procedures:
Primary and revision reconstructive Hip and Knee surgery
General Paediatric trauma / fracture management
To know more about Mr's McKenna please click here